I live in one of the most beautiful places in the world. The Ozark mountains and the Buffalo River speak to my soul in a way few other places ever have, and my roots here are deep. Even so, I've struggled with making a decision about whether or not I really want to stay here forever, since I do have a little bit of wanderlust wrapped around those roots. A couple things happened last week that forced a lightning decision (haha).
Last fall, my walk-in cooler finally bit the dust after about 3 years of babying along a worn-out compressor unit. I decided to go all-out and replace both inside and outside components, essentially making my cooling system all new and ultra-reliable. I need the walk-in unit since we hang bacon in it as well as store all our meats. Big Springs business is heavily based in proteins, and we sell about 100 pounds of brisket weekly, in addition to pork loin, ham, turkey, bacon, polish sausage… Plus cheese and all our veggies for sides. Last "weekend," which is Monday and Tuesday for us, lightning struck the compressor on my new cooling system. Since it was the weekend, I didn't realize it until the temperature rose up above the safe zone, so we lost all the food in it that had to be refrigerated. Since we had to wait for parts to be ordered (hooray for living in a rural area!), I decided to do a remodel on the outside of the restaurant.
You're probably wondering what this has to do with roots and staying in St. Joe, if you've bothered to read this far. Remodeling on this scale is a big investment, in materials and time. It was a borderline excruciating decision for me to do this, since it seems to commit me to staying here for a while, at least. It desperately needed doing. The outside of the building was looking worn and haggard, and I honestly think it turned a lot of people off who may have enjoyed the food and service once they got past the way the outside looked.
Yeah, that shot is from 2016, and everything just sagged and aged since then. So I bit the bullet and dove into a complete overhaul of the outside. I hope this will do a few things for us: Make my employees proud to work here, make people more likely to bring family and friends here to eat, catch the eyes of travelers on Highway 65 so they stop, and increase our referrals from the outfitters and lodging owners in the area. Kathy, Missy, my mom, and I did most of the labor, with some really excellent assistance from Joe and Eddie.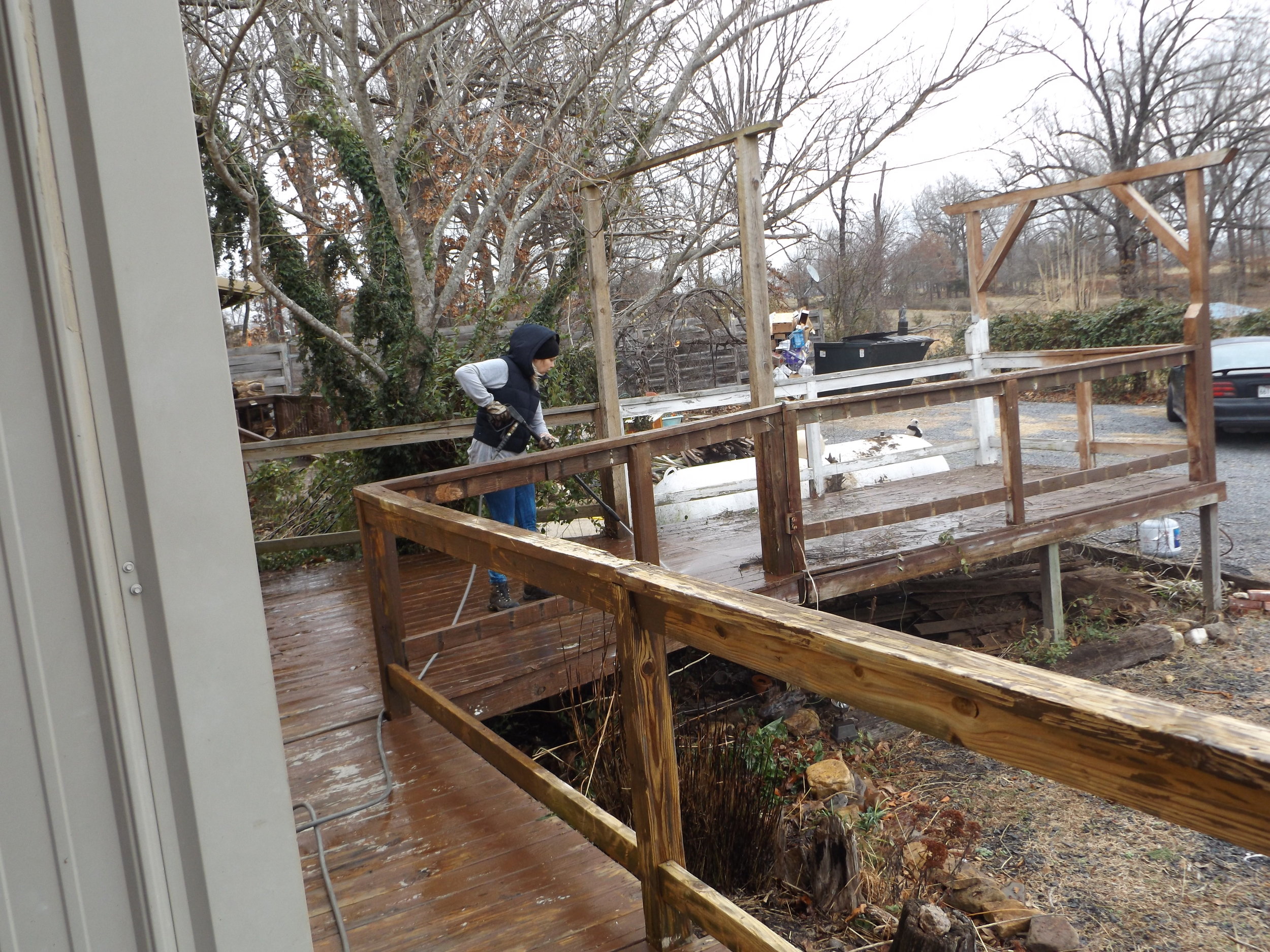 We took down all the old deck spindles and power washed our old deck boards as best we could. We had to just call a stopping point or power wash for two weeks, there was so much old paint and stain on here. The main thing was to get all the dirt and leaves out of the cracks so we didn't drag it out on brushes and rollers as we painted. We also hit the building with the power washer to get dirt and grime off and help the paint stay. I have found that the exterior of a metal building can be painted with regular exterior paint. I mean, you're not gonna get 20 years out of it, but it'll look good for several years.
Seriously, it takes 4 hours to mask and 30 minutes to spray the paint on. The girls did an excellent job taping off all the windows and doors. Also, check out that really really crappy-looking wall and trim.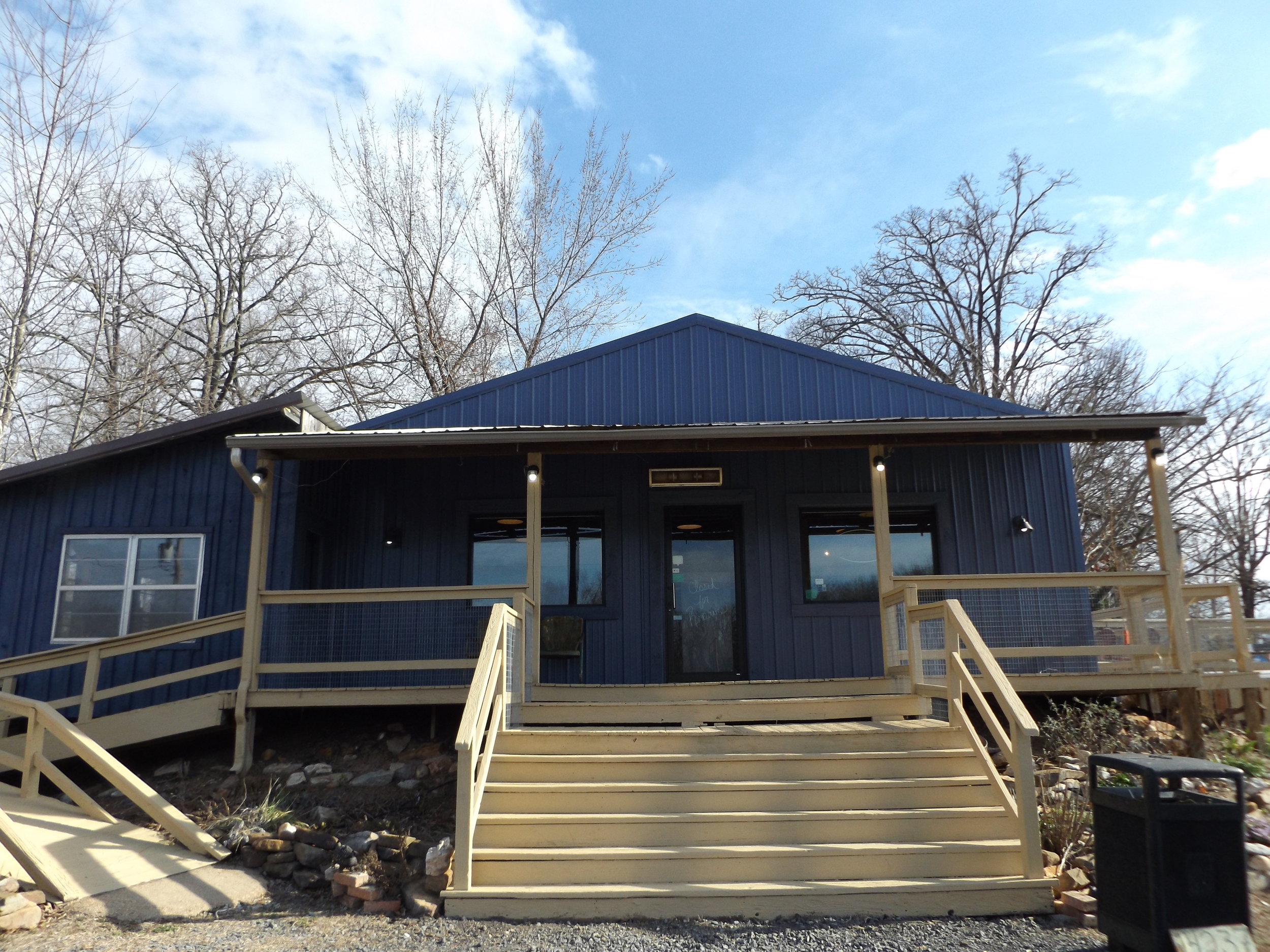 Boom!
We chose a dark blue-gray for the building and a light natural color for the porch. People driving by have thought we replaced the lumber, but we didn't. We used "Deck-Over" from Home Depot, which did a pretty good job of "repairing" the flaws in the old boards. We thought we could roll it onto the flat parts, but we were sadly mistaken. We did the rails, then put up our really awesome welded-wire in the spaces where little kids and small pets might fall off the porch, then came back and did the flat parts, all by hand with a brush. I told the girls that it was a $400 solution to a $10,000 problem. I honestly think this will extend the life of our deck by about 5 years.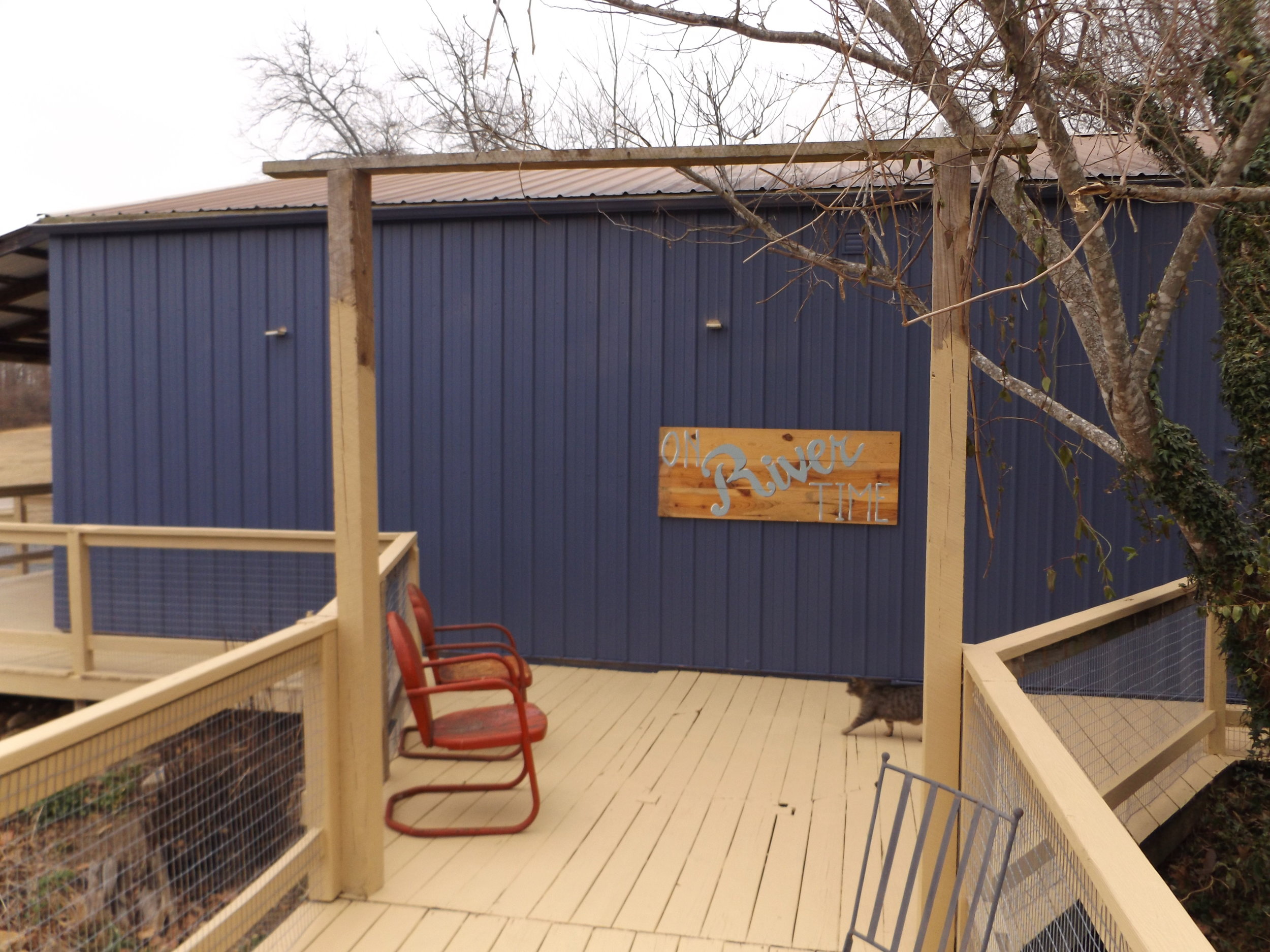 We added some cool little details, like this cute sign (yo, tag us on instagram when you take pictures beside it @bigspringsgirls). Closer to summer, we'll get some more tables for the patio.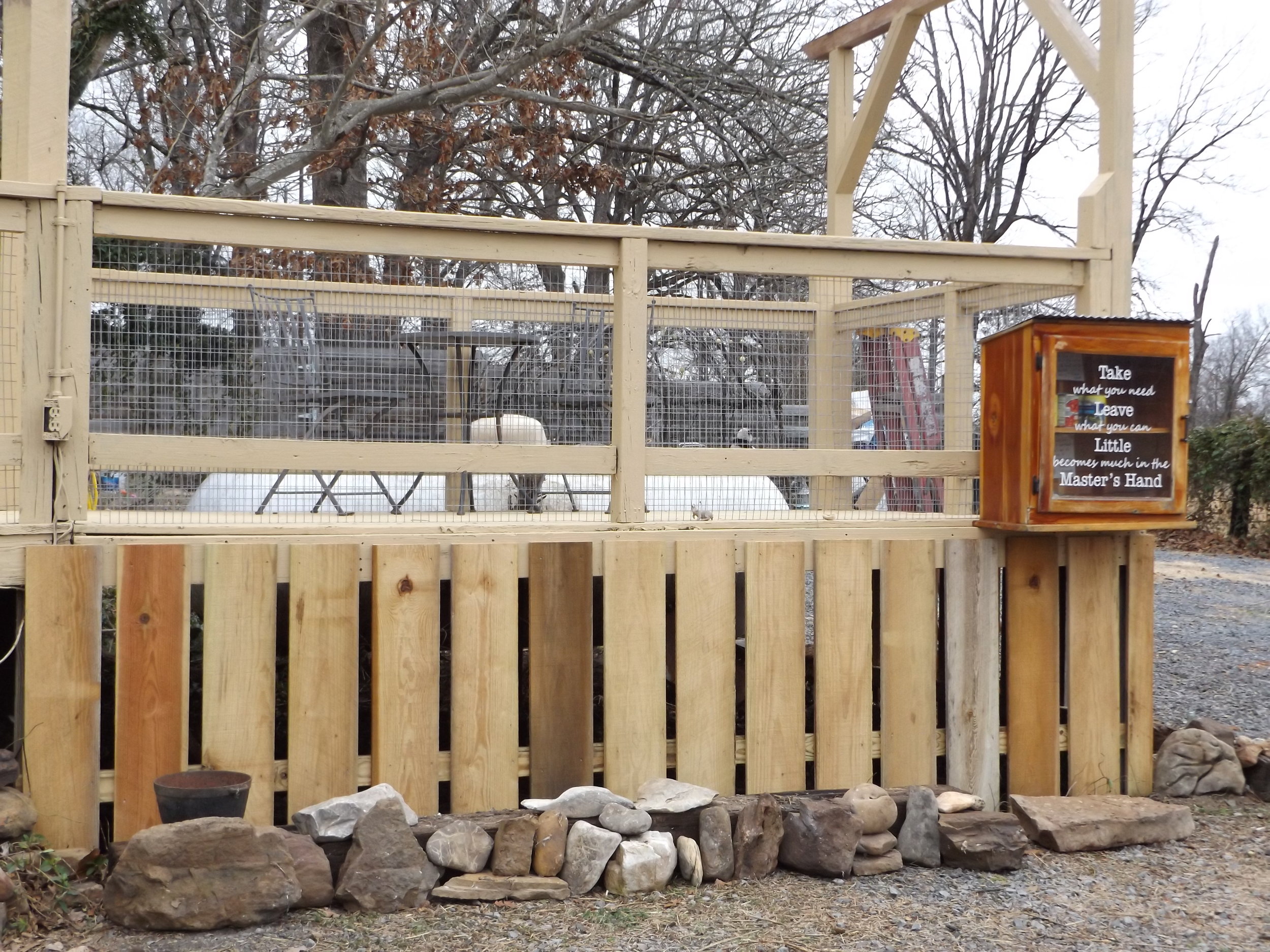 The blessing box has moved around to the front side of the patio, and the old barn tin has been replaced with these cool pickets that will weather to a nice soft grey. Eddie and Joe put these up for us, and I think they look amazing!
Our interior didn't completely miss out on the super-fun stuff. This wall in our small dining room was pretty beaten up from being smacked with chairs and stuff, so we decided to do something creative with it. We had this grey paint left over from another project, and decided to just paint half the wall. Turns out that it's almost impossible to tape a straight line on this stupid tin. Instead, we deliberately made it crooked and turned it into mountains. I added the John Muir quote, but you can definitely tell that I have granny hands. The letters are a little crabbed and shaky. Oops.
There are several other little details that I hope you notice and enjoy the next time you come to eat with us. And I do so sincerely hope you come. I want, when all is said and done, for Big Springs to be a place that locals are proud to bring their out-of-town guests to. I want my employees to be proud to work here. I want this to be a fun, funky place to hang out with your friends and family. If you're one of the guys who eats lunch here during his work week, I want you to think this place is nice enough to bring your wife to dinner on the weekend. If you work at an outfitter or own a nightly rental for the river, I want you to feel confident that you can send your customers here for a great meal in a cool spot.
I need to say a big giant THANK YOU to Kathy and Missy, my parents, and my husband for making what I saw in my head turn out the way I wanted to. Thank you.